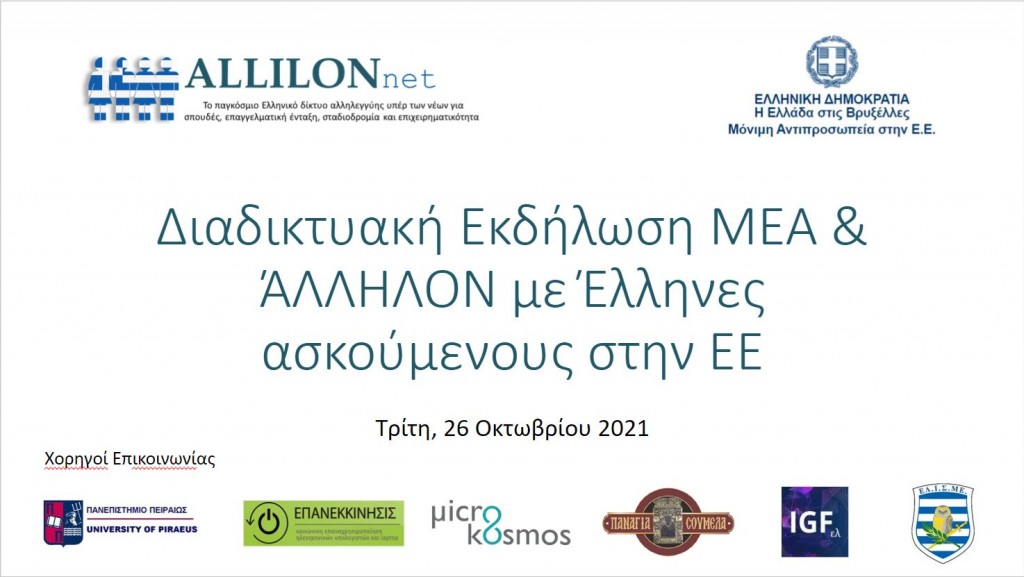 On Tuesday 26/10, the third event of ALLILON and the Greek Permanent Representation to the EU, addressed to the Greek and Cypriot trainees to the EU institutions took place successfully. In the second part of the event, with 59 available mentors and 92 registrations of new EU trainees, students and young professionals, a total of 117 individual and group speed mentoring sessions took place!
The event was opened with short presentations by the Permanent Representative of Greece to the EU, Ambassador and mentor of ALLILON, Ioannis Vrailas, and the President and founder of ALLILON, Angelos Pangratis. Then the local coordinators introduced the guest speakers. The guests discussed the green economy advancement in Greece, as well as employment and entrepreneurship opportunities.
A big thank you to our excellent speakers: Grigoris Zarotiadis, John Soldatos, Giorgos Kremlis, Fay Selimi, to the organizing team of ALLILON Belgium (Vangelis Kemos, Virginia Marantidou, Evi Moutsipai, Yannis Korkovelos) and of the perm rep to the EU (Paola Patrikiou), the communication team (Alexandros Pangratis), our communication sponsors and of course our mentors!
See you at our next event to be announced soon!